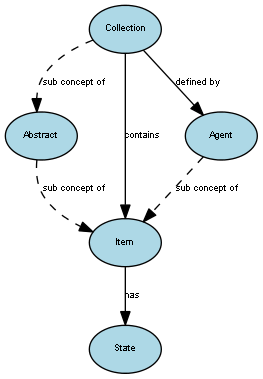 ITEMs are often grouped together so that they can be managed, or operated upon together. For example

* Housing Stock
* Vehicle Fleet
* Manholes
* Roads
* a Contracts Register

COLLECTIONs are defined by AGENTs so that the actual contents are either explicitly listed, or defined by a scoping statement.

COLLECTIONs enable lists of ITEMs to be defined, created and shared across a city.

Although the contents of a COLLECTION can be physical ITEMs, a COLLECTION is an ABSTRACT ITEM.

As a COLLECTION is itself, a sub-concept of ITEM, it's STATE can be described and tracked over time.