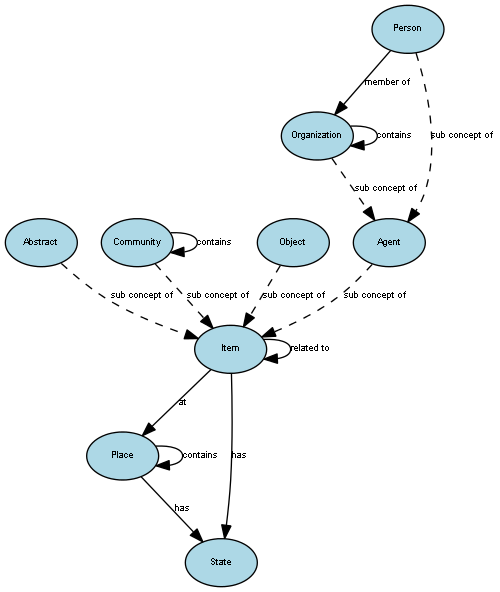 A city will contain lots of ITEMs, which might be referred to in data from many organisations. Where a city can agree a common identifier for an ITEM, many organisations can provide information about it.

Most obviously, an ITEM might be an OBJECT such as a lamppost, a building, or a road, but an ITEM might also be

* an ORGANIZATION, such as a local council, or an energy supplier
* a PERSON, such as a resident or user of a service.
* a COMMUNITY, such as commuters, or low income families

The model contains sub-concepts of ITEM for these. The relationships that are defined for ITEM are therefore also true for these sub-concepts.

The AGENT concept can be used where it is not possible to know if data refers to a PERSON or an ORGANIZATION.

A city will also need to refer to non-physical things such as a service, a contract, a decision, or a case. These non-physical things are also ITEMs, and the model uses the sub-concept ABSTRACT to group them together. A number of further sub-concepts within ABSTRACT are defined in the model.

ITEMs might be associated with PLACEs; most obviously, to describe where an ITEM is. Although ABSTRACT ITEMs don't have a physical existence, they can still be related to PLACE, perhaps to describe their coverage.

PLACE is used to describe a geographic position or area. Some PLACEs will be described precisely with coordinates, and boundaries, while others will be less precise, perhaps just with a locality name.

Both ITEMs and PLACEs can have a series of STATEs over time. Typically, a STATE describes the condition of an ITEM or PLACE.

A STATE might be described subjectively, from the point of view of an observer, for example, 'the building condition is poor'. A STATE might also be described quantitively, for example, the temperature of a room, or perhaps as a statistic, for example "a community's deprivation index".

A Smart City will base its decisions on a shared understanding of the STATE of ITEMS, either in real-time, or by implementing PLANs to being about changes to STATEs.